John 8:1-11
A Way Forward
by Rev. Steven G. Oetjen
Reprinted with permission of "The Arlington Catholic Herald"
Home Page
To Sunday Gospel Reflections Index
John wrote to show that Christ was
the Messiah, the Divine Son of God.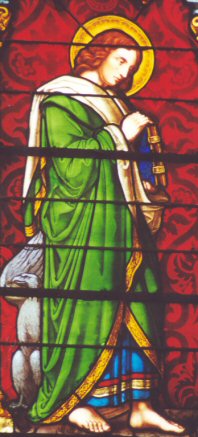 Jesus went to the Mount of Olives. But early in the morning he arrived again in the temple area, and all day people started coming to him, and he sat down and taught them. Then the scribes and the Pharisees brought a woman who had been caught in adultery and made her stand in the middle. They said to him, "Teacher, this woman was caught in the very act of committing adultery. Now in the law, Moses commanded us to stone such a woman. So what do you say?" They said this to test him, so that they could have some charge to bring against him. Jesus bent down and began to write on the ground with his finger. But when they continued asking him, he straightened up and said to them, "Let the one among you who is without sin be the first to throw a stone at her." Again he bent down and wrote on the ground. And in response, they went away one by one beginning with the elders. So he was left alone with the woman before him. Then Jesus straightened up and said to her, "Woman, where are they? Has no one condemned you?" She replied, "No one, sir." Then Jesus said, "Neither do I condemn you. Go, and from now on do not sin any more."
They "made her stand in the middle." This woman, who had been caught in the act of adultery, was now all of a sudden in the midst of a sort of trial. She must have felt trapped. Perhaps she wished to herself, "If only I could take it back. If only I could go back in time and do things differently." The scribes and Pharisees are really only using her as a pawn to test Jesus, but that doesn't change what she must be feeling: humiliation, regret, fear for her life, being trapped with no way out.
It seems that Jesus is trapped, too. His enemies made some key observations about him. "The observed that he was excessively meek, that he was excessively gentle," St. Augustine explains. This was one of the characteristics that drew people to him. And in addition to his gentleness toward sinners, he also was regarded for his truth and righteousness. This gives the scribes and Pharisees just what they need to lay a trap. They reason among themselves: People regard him as both gentle and righteous. Let us bring before him a woman caught in adultery. If he says that she should be stoned, according to the law, then so much for his gentleness. If he says that we should ignore the law and let her go, then so much for his righteousness.
We know well that Jesus always gets out of these malicious traps. So, St. Augustine continues, "Behold, the Lord in answering them will both keep righteousness, and will not depart from gentleness." Here' how he gets out of the trap. "He did not say, 'Let her not be stoned,' lest he should seem to speak against the law. But far be it from him to say, 'Let her be stoned,' for he came not to lose what he had fund, but to seek what was lost. What then did he answer? See how full of righteousness it is, how full of meekness and truth! 'Let the one among you who is without sin,' he says, 'be the first to cast a stone at her.'"
But this passage is not really about how Jesus gets himself out of a trap. (We weren't really worried about that. After all, we've seen him get out of more difficult traps before.) Jesus is more concerned with freeing the woman. He will not let her be trapped by those who wish to use him as a pawn to trap him, nor will be let her be trapped even by her own sin. Let us not forget that this is the Lord "who opens a way in the sea and a path in the mighty waters" (Is 43:16). Centuries earlier, when the Israelites had come up to the Red Sea with their Egyptian captors pursuing behind them, they too were trapped. It must have looked to them like they had two options: a watery death in front of them, or death by charioteers behind them. But the Lord parted the waters of the sea and gave them a way forward into freedom.
This is the same god who now looks this trapped woman n the fade and says, "'Woman, where are they? Has no one condemned you?' She replied, 'No one, sir'. Then Jesus said, 'Neither do I condemn you. God, and from now on do not sin anymore.'"
Sin leads to death. But the Lord does not want this. "As I live, says the Lord, I do not wish the sinner to die, hut to turn back to me and live" (a good verse for us to keep in mind all throughout Lent). He offers us a new way forward. No, we cannot change the past. There may be consequences of our actions that we still have to live with and amends still to be made. But the Lord never leaves us trapped in our sin. Repentance is the way forward. "Go, and sin no more,"
Sin leads to dead ends. But there is no truly dead end to one who turns to the Lord in repentance.