Luke 3:10-18
Preparing Your Soul
by Rev. Joseph M. Rampino
Reprinted with permission of "The Arlington Catholic Herald"
Home Page
To Sunday Gospel Reflections Index
Luke writes to explain that
Christ came to save everyone.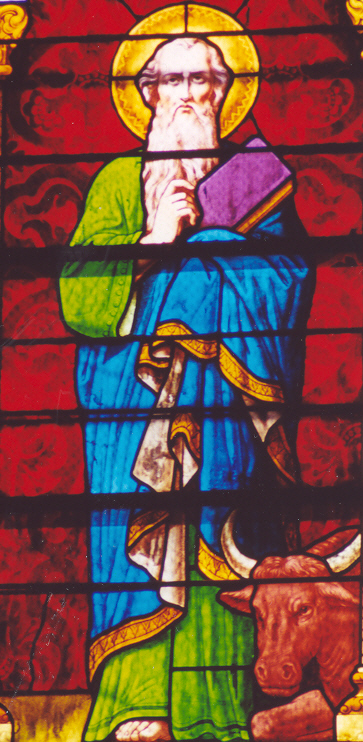 The crowds asked John the Baptist, "What should we do?" He said to them in reply, "Whoever has two cloaks should share with the person who has none. And whoever has food should do likewise." Even tax collectors came to be baptized and they said to him, "Teacher, what should we do?" He answered them, "Stop collecting more than what is prescribed." Soldiers also asked him, "And what is it that we should do?" He told them, "Do not practice extortion, do not falsely accuse anyone, and be satisfied with your wages."
Now the people were filled with expectation, and all were asking in their hearts whether John might be the Christ. John answered them all, saying, "I am baptizing you with water, but one mightier that I is coming. I am not worthy to loosen the thongs of his sandals. He will baptize you with the Holy Spirit and fire. His winnowing fan is in his hand to clear his threshing floor and to gather the wheat into his barn, but the chaff he will burn with unquenchable fire." Exhorting them in many other ways, he preached good news to the people.
Many of us perhaps have had the experience as children of helping prepare the house for an important guest. Our parents might have had us cleaning the public rooms with particular attention to detail. If we were not helping to put away whatever had been left out of place, straightening up the furniture, or cleaning and tending the lawn, perhaps we would help with preparing refreshments or cooking the meal. These preparations might have been stressful, and may have felt as though we were preparing the home for some exacting inspection, but hopefully we understood they simply were part of showing love to the visitor. One prepares for guests for the guests' sake, not merely to fulfill some abstract law about the right state of any house.
In the Gospel this weekend, John the Baptist calls the people to prepare and straighten up their own lives. He exhorts the crowds to share their excess possessions, to act honesty and uprightly, and to be content with what the Lord has given them. He says he is preparing these people for the arrival of the Christ, who will baptize with fire, gather the good into the kingdom of heaven and consign the wicked to hell. This certainly seems like a dire set of warnings and an ultimately exacting sort of eternal inspection, but if we understand what it means to prepare for guests and read this passage in the light of the Advent season, we can see it from a different standpoint.
John calls the crowds to prepare their lives and hearts, not just in moral obligation, in conformity to a code of right conduct. Rather, he calls them to prepare to receive the love of their imminent visitor. The baptism of fire is the act of love by which Jesus unites souls with himself, sharing the burning charity that is his divine life. He desire to bring every soul into the house of his Father, and only will send away those who are not ready to meet him in love, who choose to reject his friendship, In this way, the moral life that John's disciples must recover has a purpose outside of itself. Just as we prepare a house as an act of love for our guests, so moral reform is not merely for its own sake, out for the sake of friendship with God. Just as the state of a house tells the guest whether or not they are welcome, so the state of our soul tells the Lord whether we are open to receive him as a friend or not.
Thus, this passage speaks to us in the present, more than halfway through the season of Advent, rejoicing in the closeness of Christmas, represented by the joyful pink vestments we wear this Sunday. Like John's disciples, we are called to change what is out of order, give up our sins, live honestly and uprightly, give what we do not need to those who are afflicted: in short, to straighten ourselves up. Of course, we don't do this simply to pass inspection. We prepare our souls because we wish to show love to Christ our guest, soon to arrive at Christmas, and we want to be ready for a peaceful and joyful visit with him. We prepare our souls so that when he comes to us with the gifts of eternal life and love, nothing can distract us from receiving them with our whole heart.