Luke 4:21-30
Wisdom of God
by Rev. Jack Peterson, YA
Reprinted with permission of "The Arlington Catholic Herald"
Home Page
To Sunday Gospel Reflections Index
Written to explain that
Christ came to save everyone.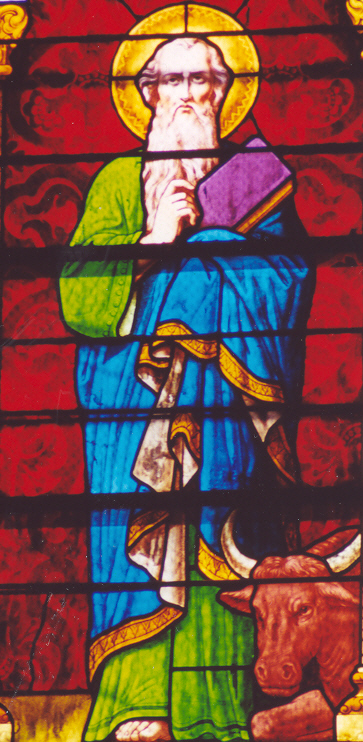 Jesus began speaking in the synagogue, saying: "Today this Scripture passage is fulfilled in your hearing." And all spoke highly of him and were amazed at the gracious words that came from his mouth. They also asked, "Isn't this the son of Joseph?" He said to them, "Surely you will quote me this proverb, 'Physician, cure yourself,' and say, 'Do here in your native place the things that we heard were done in Capernaum.'" And he said, "Amen, I say to you, no prophet is accepted in his own native place, Indeed, I tell you, there were many widows in Israel in the days of Elijah when the sky was closed for three and a half years and a severe famine spread over the entire land. It was to none of these that Elijah was sent, but only to a widow in Zarephath in the land of Sidon. Again, there were many lepers in Israel during the time of Elisha the prophet; yet not one of them was cleansed, but only Naaman the Syrian." When the people in the synagogue heard this, they were all filled with fury. They rose up, drove him out of the town, and led him to the brow of the hill on which their town had been built, to hurl him down headlong. But Jesus passed through the midst of them and went away.
Wisdom is a beautiful thing. Wisdom is desperately needed in our world today. Wisdom is not a matter of intelligence, quick-mindedness, creativity or cleverness. Rather, it is a gift of God. Wisdom is humility. It is being able to see things from God's perspective. Wisdom flows from knowing God, loving him, and pondering his law with openness and trust. Wisdom seeks the larger picture. It is patient. It does not get swallowed up in the immediate situation but brings to every situation the perspective of God - his goodness, truth, unexplainable love and ultimate desire to get us to heaven.
In the Gospel today, Jesus, the refulgence of eternal wisdom, stands in the midst of God's people, and they are unable to see him in faith. Their pride and spiritual blindness lead them to think that Jesus, because he grew up in their hometown and ran through their streets as a child, could not possible by the Messiah, let alone the Son of God. They lack the wisdom of God. They lack the humility needed to see the living God before their very eyes, sitting in their synagogue and speaking eternal truths to them.
As a young priest, I had an experience that taught me about the wisdom of God and his providential plan. Some years ago, I initially mildly frustrated with an assignment from the bishop. I was hoping to be given an assignment where I could live in community with my brothers in Youth Apostles and focus all of my energies on bringing young people to Christ, perhaps as a chaplain at a high school or college. The bishop assigned me to a parish instead. It turned out to be a blessing on many levels for me and my community. The pastor became a mentor to me and a friend of Youth Apostles. I was wonderfully inspired by the level of involvement of the lay members in the life of the parish, their deep spirituality, their service to those in need both locally and across our nation, and their admirable commitment to the young people in the parish.
God is wise, the fount of all wisdom. He executes a providential plan that often surprises us, shakes our world upside down and the results in an outpouring of abundant grace. We are wise when we humble ourselves, place our complete trust in him, and dedicate ourselves to growing in our understanding of his Gospel way of life revealed in Christ and in his church.
The prophet Jeremiah pours out a generous portion of wisdom upon any man or woman who is willing to go deferentially before the Lord in faith. He teaches clearly that no human being enters this world as a result of chance, coincidence or pure biological processes. "The word of the Lord came to me, saying: Before I formed you in the womb I knew you, before you were born I dedicated you, a prophet to the nations I appointed you."
Each of us has been created very intentionally by the hand of our loving God. The Father knew us before we were formed in the womb and before we were born into this world. We are an integral part of his carefully crafted, loving plan for all eternity. Each of us is the fruit of a conscious, focused, intentional act of our loving Creator who made us to know, love and serve him in this life, and dwell with him for all eternity in an intense union of life and love.
This reality is truly Good News. It gives profound meaning and direction to our lives. This knowledge of his love and our clear purpose sets us free from so much fear and anxiety. It produces a deep joy that remains in our hearts in spite of life's burdens and crosses. It is one of God's great gifts to those who accept and embrace the gift of faith in his Son, Jesus.
This truth of our existence carries with it a corresponding responsibility. It demands that we strive to see our neighbor through God's eyes. The fact that each and every human being is conceived through a conscious and very intentional act of our loving God means that we need to respect the innate dignity of every human being. The unique and supreme value of each human life is the result of God's design, not ours. The value of each life does not flow from whether certain human beings want and love that person or not. We do not have the right to abuse, misuse or end the life of a human being because they are a burden, have sinned against us or do not have the quality of life that I determine they deserve at this stage in their lives. He or she is God's precious child, and God should determine the length of their earthly journey.
Allow me to finish with our opening prayer for Mass: "Grant us, Lord our God, that we may honor you with all our mind, and love everyone in truth of heart. Through our Lord Jesus Christ, your Son, who lives and reigns with you in the unity of the Holy Spirit, God, forever and ever."