Luke 15:1-3, 11-32
Most Merciful Father
by Rev. Jack Peterson, Y.A.
Reprinted with permission of "The Arlington Catholic Herald"
Home Page
To Sunday Gospel Reflections Index
Written to explain that
Christ came to save everyone.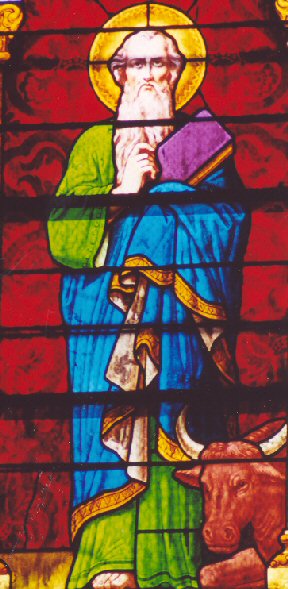 Tax collectors and sinners were all drawing near to listen to Jesus, but the Pharisees and scribes began to complain, saying, "This man welcomes sinners and eats with them: So to them he addressed this parable. "What man among you have a hundred sheep and losing one of them would not leave the ninety-nine in the desert and go after the lost one until he finds it? And when he does find it, he sets it on his shoulders with great joy and upon his arrival home, he calls together his friends and neighbors and says to them, 'Rejoice with me because I have found my lost sheep.' I tell you, in just the same way there will be more joy in heaven over one sinner who repents than over ninety-nine righteous people who have no need of repentance.
"Or what woman having ten coins and losing one would not light a lamp and sweep the house, searching carefully until she finds it? And when she does find it, she calls together her friends and neighbors and says to them, 'Rejoice with me because I have found the coin that I lost.' In just the same way, I tell you, there will be rejoicing among the angels of God over one sinner who repents."
Then he said, " A man had two sons, and the younger son said to his father, 'Father give me the share of your estate that should come to me.' So the father divided the property between them. After a few days, the younger son collected all his belongings and set off to a distant country where he squandered his inheritance on a life of dissipation. When he had freely spent everything, a severe famine struck that country, and he found himself in dire need. So he hired himself out to one of the local citizens who sent him to his farm to tend the swine. And he longed to eat his fill of the pods on which the swine fed, but nobody gave him any. Coming to his senses he thought, 'How many of my father's hired workers have more than enough food to eat, but here am I, dying from hunger. I shall get up and go to my father and I shall say to him, "Father, I have sinned against heaven and against you. I no longer deserve to be called your son, treat me as you would treat one of your hired workers."'
So he got up and went back to his father. While he was still a long way off, his father caught sight of him, and was filled with compassion. He ran to his son, embraced him and kissed him. His son said to him, 'Father, I have sinned against heaven and against you; I no longer deserve to be called your son.' But his father ordered his servants, 'Quickly bring the finest robe and put it on him; put a ring on his finger and sandals on his feet. Take the fattened calf and slaughter it. Then let us celebrate with a feast, because this son of mine was dead, and has come to life again; he was lost, and has been found.'
Then the celebration began. Now the older son had been out in the field and, on his way back, as he neared the house, he heard the sound of music and dancing. He called one of the servants and asked what this might mean. The servant said to him, 'Your brother has returned and your father has slaughtered the fattened calf because he has him back safe and sound.' He became angry, and when he refused to enter the house, his father came out and pleaded with him. He said to his father in reply, 'Look all these years I served you and not once did I disobey your orders; yet you never gave me even a young goat to feast on with my friends. But when your son returns, who swallowed up your property with prostitutes, for him you slaughter the fattened calf.' He said to him, 'My son, you are here with me always; everything I have is yours. But not we must celebrate and rejoice, because your brother was dead and has come to life again; he was lost and has been found.'"
Jesus crashed down through the barriers of time and space and took on our human condition for a number of wonderful reasons, including to redeem the world from sin, to demonstrate the depths of God's love for us, to open the gates to heaven, to reveal and model a way of life that leads to true human flourishing and to reveal the face of our heavenly Father.
Today's Gospel parable stands tall among the moments where Jesus shines a warm light onto the face of God, our Father. We often refer to the parable in reference to the younger, prodigal son. I think we should refer to the parable in reference to the most merciful father.
The father exhibits a generosity and mercy completely undeserved and over the top. First of all, what earthly father, well before his death, divides his property and gives half of it to a young and immature son? The son quickly proceeds to run through his inheritance on prostitutes and loose living and, according to the culture of the day, totally severs his relationship with his family. The father anxiously waits for his son to venture back home, sees him coming from a great distance, runs to him and smothers him with an embrace and a kiss. It is worthy to note that in that culture, no adult men ever ran. It was a strong cultural norm.
The father continues to shock us by giving very little attention to the son's explanation for his return. He is elated to have him home, restores his sonship with a ring and fine robe, and throws a massive party in celebration of his return. Not only does the father forgive the selfishness, lust and horrible indiscretion of the younger son, but he also patiently forgives the pride, resentment and ingratitude of the older son. He pleads with the older son to join the celebration: "But now we must celebrate and rejoice, because your brother was dead and has come to life again; he was lost and has been found."
Jesus reveals the Father as one who is generous beyond comprehension, surprisingly quick to forgive us when we turn back to him and driven to be united with us in faith-filled love.
Of course, the undeserved mercy of our heavenly Father is poured out upon mankind through the passion, death and resurrection of his Son, Jesus Christ. When we come to grasp the full extent of our sins and the devastation they cause God, neighbor and self, it is a cause for deep anxiety and despair. So, when the mercy of the Father washes over us, casting our sins like drops of water into the ocean, we experience a spectacular new life.
St. Paul knew well this blessed reality. He explains it this way: "Brothers and sisters: Whoever is in Christ is a new creation: the old things have passed away: behold, new things have come." The joy, the relief and hope that come from the Father's over-the-top forgiveness coupled with God's healing grace in the sacrament of confession are incredibly life-giving. We indeed become a new creation in Christ.
One college student encountered Jesus in a totally new way while on a weeklong service trip with a campus ministry from our diocese. He grew up Catholic but had not come to know Jesus in a personal, intimate way. His encounter with Christ and his mercy throughout the week was powerful. Upon his return, he described his new life in this way: "I was shocked at the suddenness and intensity of the change in my life. On the first morning of our return to (college), I opened my eyes and I was not the same. I knew a joy in my heart that I had never experienced before. I had a crazy, uncharacteristic desire to do generous things for my peers. I was no longer attracted to certain former, unhealthy attachments in my heart. I experienced God in prayer and at Mass like never before … What I want to say is that God restored my faith, my innocence and my life almost without me noticing it. It made me think of Mary Magdalene and how Jesus healed her and helped her get rid of bad attachments. God had always been my Father, but after that trip, he was able to make me his son."
May our souls rejoice in the greatness of our Father and may we be driven to share this Good News with our small corner of the world. "I will bless the Lord at all times; his praise shall be ever in my mouth. Let my soul glory in the Lord; the lowly will hear me and be glad" (Ps 34).