Luke 21:25-28, 34-36
A New Year
by Rev. Steven G. Oetjen
Reprinted with permission of "The Arlington Catholic Herald"
Home Page
To Sunday Gospel Reflections Index
Written by Luke to explain that
Christ came to save everyone.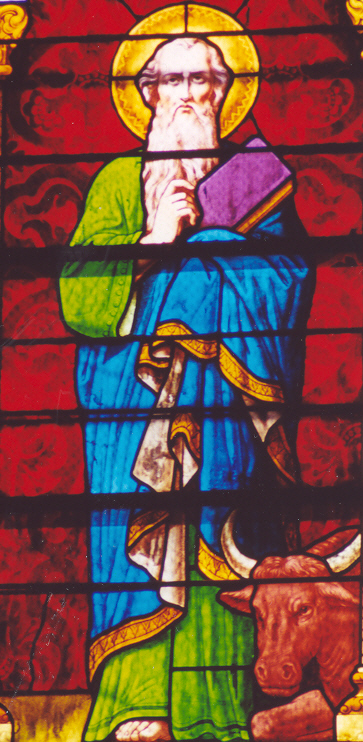 Jesus said to his disciples: "There will be signs in the sun, the moon, and the stars, and on earth nations will be in dismay, perplexed by the roaring of the sea and the waves. People will die of fright in anticipation of what is coming upon the world, for the powers of the heavens will be shaken. And then they will see the Son of Man coming in a cloud with power and great glory. But when these signs begin to happen, stand erect and raise your heads because your redemption is at hand."
"Beware that your hearts do not become drowsy from carousing and drunkenness and the anxieties of daily life, and that day catch you be surprise like a trap. For that day will assault everyone who lives on the face of the earth. Be vigilant at all times and pray that you have the strength to escape the tribulations that are imminent and to stand before the Son of Man."
We come to another new year today. No, it's not a new calendar year. We'll have to wait until January for that. But it is a new year of grace with the season of Advent. This first Sunday of the new year is always focused on our preparation - not only our preparation for the Lord's coming at Christmas, but our ultimate preparation for the Lord's coming at the end of time.
Jesus tells us about the various signs that will accompany the end of time - in the sun, the moon, the stars, on the earth and in the sea. But one sign will stand out among all of them, and that is the Son of Man himself appearing in glory. His instruction to his disciples to "stand erect and raise your heads because your redemption is at hand." He does not want us to be caught off guard and to cower in fear, but to have a certain confidence.
What needs to happen for us to be able to have that attitude of confidence? Good preparation. Here are two suggestions for our preparation this Advent season: detachment and silence.
First, detachment from sin. This may seem obvious. Ongoing conversion is part of every season of the Christian life and indeed something we must embrace daily. But there is the constant danger that we get comfortable and grow slack in our efforts. We need a nudge from time to time. And so, this is the wake-up call we get on the first day of this new year of grace: "Be vigilant." Am I ready? Or are there sins I continue to cling to, thinking there will always be a "later"?
We are held back from loving God to the extent that we are attached to sin. And this is why detachment from sin is so important. Our preparation for Our Lord's coming is not merely trying to be free of mortal sin (though that is very important). We seek detachment from all sin, great and small, so that we become more and more capable of loving God. We are being formed now into who we will be for eternity. This is a good reason not to delay our pursuit of holiness, but to press on fervently with attentiveness to God's will.
A prayer written by St. Gregory Nazianzen captures this attitude of detachment from sin that is so essential for our preparation for the coming of Christ: "Make ready in Your fear, without trouble and without delay, may You receive us on the last day. Grant that we may not leave the things of this world with regret, like those who are too much attached to earth and the flesh; grant that we may advance resolutely and happily toward that blessed and unending life which is in Christ Jesus Our Lord, to whom be glory forever and ever. Amen."
Second, the cultivation of silence. In our world today, I think we all find that silence is not something that we accidentally stumble upon. We have to seek it out and cultivate it, or else we will not have it. Otherwise, we are swept along by the constant current of noise and distraction. Today's Gospel warns us of this as well: "Beware that your hearts do not become drowsy from carousing and drunkenness and the anxieties of daily life, and that day catch you surprise like a trap." Aside from our sins and moral failings, it is also "the anxieties of daily life" that cause us to be unprepared. This is a failure to be recollected and to seek out the silence we need to hear the voice of Christ.
Silence is something that pays off especially in the long run. It provides space for Christ to grow silently within us. So, make conscious efforts now to seek out a greater spirit of silence. Pay attention to those moments when nothing is going on and you instinctively reach for your phone for instant entertainment. Notice the time you spend mindlessly scrolling, or clicking again and again - one more link, one more article, one more video. Advent is a great time to cut back. Leave room in your heart for silence with the Lord.
Let every heart prepare him room," we will soon be singing at Christmastime. These two things, detachment from sin and cultivation of silence, will help us prepare room for Christ who is coming.