14th Sunday in Ordinary Time
A Homily - C Cycle - 2003-2004
First Reading - Isaiah 66:10-14c
Psalm - 66:1-3, 4-5, 6-7, 16, 20
Second Reading - Galatians 6:14-18
Gospel - Luke 10:1-12, 17-20 or 10:1-9
Luke writes to explain that
Christ came to save everyone.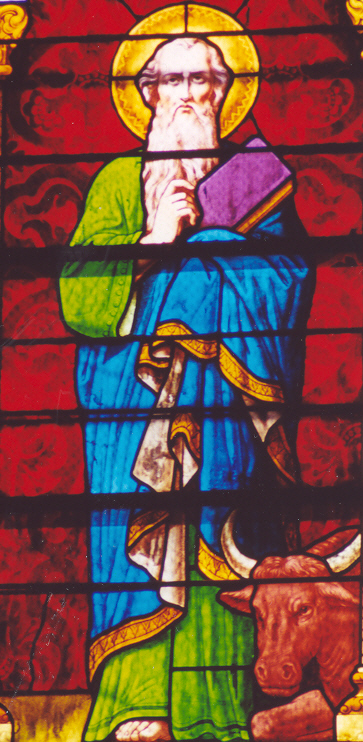 At that time the Lord appointed seventy-two others whom he sent ahead of him in pairs to every town and place he intended to visit. He said to them, "The harvest is abundant but the laborers are few; so ask the master of the harvest to send out laborers for his harvest. Go on your way; behold, I am sending you like lambs among wolves. Carry no money bag, no sack, no sandals; and greet no one along the way. Into whatever house you enter, first say, 'Peace to this household.' If a peaceful person lives there, your peace will rest on him; but if not, it will return to you. Stay in the same house and eat and drink what is offered to you, for the laborer deserves his payment. Do not move about from one house to another. Whatever town you enter and they welcome you, eat what is set before you, cure the sick in it and say to them, 'The kingdom of God is at hand for you.' Whatever town you enter and they do not receive you, go out into the streets and say, 'The dust of your town that clings to our feet, even that we shake off against you,' Yet know this; the kingdom of God is at hand. I tell you, it will be more tolerable for Sodom on that day than for that town."
The seventy-two returned rejoining, and said, "Lord, even the demons are subject to us because of your name." Jesus said, "I have observed Satan fall like lightning from the sky. Behold, I have given you the power to 'tread upon serpents' and scorpions and upon the full force of the enemy and nothing will harm you. Nevertheless, do not rejoice because the spirits are subject to you, but rejoice because your names are written in heaven."
In our Gospel today, Jesus gives a specific commission to a group other than the Twelve Apostles. The Twelve Apostles traditionally have been called the first twelve bishops. These 72 disciples are known as the first 72 priests. The number "72" is significant in Biblical history. It was 72 elders who assist Moses in getting the Jews to the Promised Land, as we read in the Book of Numbers. There were also 72 members of the Sanhedrin and at the time of Christ's death, there were 72 nations known to man.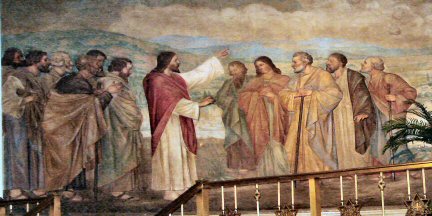 Traditionally, this Gospel is used to preach for an increase in the response to the vocation to the priesthood and religious life. And while that approach is very much valid, it can also be said that the mandate to spread the Gospel extends to the laity as well - to be collaborators with priests in the work of evangelization. This is part of why this Gospel should appeal to all of you.
Notice in the Gospel that it is Christ who sends - the 72 don't commission themselves. In the same way, it is Christ who sends us forth to spread the Gospel, by our vocation or calling to be evangelical. We don't call ourselves to this life. Rather, we are called, which means that we receive the message to give to others - we simply don't make it up as we see fit.
Jesus gives the 72 very specific commands:
1. First, take very little with you and talk to no one along the way. This suggests an intensity in focus; a sense of urgency that we should have in the apostolate; and a detachment from material goods that we need to maintain if we are to remain faithful to the vocation to spread the Gospel.
2. Second, offer peace to the home. These are the words the shepherds heard in the fields outside of Bethlehem at Christmas, "Peace on earth!" It is the same message that Christ offers on Easter Sunday night in the upper room when He first appears to the Twelve, "Peace be with you." It is a message of reconciliation, mercy, healing and friendship with God.
3. Third, eat and drink whatever is set before you. This means that we should conduct our apostolate with a pure intention. We ought to do the apostolate, not for what we can get of it, but out of love for God. It also reminds us to rely on God's Providence, who will take care of us.
4. Fourth, cure the sick. The spiritual and sometimes physical healings that will occur in the apostolate will force people to make a decision about their lives. We may suffer rejection for being evangelical but this is part of carrying our Cross - to take the risk of being rejected for doing good.
With all of these commands, one may think that all of the regulations that Christ gives would limit the freedom of the 72. Hardly. It is actually obedience that frees the 72 to complete their mission. The rules don't bind them - they free them to be who Christ wants them to be and it is in that they find true freedom.
Unfortunately, we often don't associate freedom and obedience or freedom and responsibility as complementary terms. We think that if we have to be obedient to another or have to assume responsibility for someone or something, then that puts a limit on our freedom. Sadly, our understanding of what true freedom means has been deeply perverted. As a youngster, I lived in a country, where the people did not enjoy the freedoms that we enjoy here. My family lived under a dictatorship and so the idea of liberty and freedom are of particular interest to me - so much so, that I majored in Political Science in college. This is a topic worthy of our consideration on Independence Day.
These days, it is clear that most Americans think of their freedom as a freedom from constraint: that is, no one can tell me how to live my life or how I should act, etc. I am free because I can do whatever I want, where I want and with whomever I want and no one can stop me. This goes against the freedom that the Founding Fathers envisioned and the freedom that the Church understands: for both, true freedom is not merely the capacity to do what one merely wants, but rather, it is so much more - true freedom is the capacity to do what we should.
Perhaps an illustration of the difference between freedom from constraint vs. a freedom for excellence is helpful: Since it is golf season, Tiger Woods can teach us something this morning. I know that Tiger isn't at the top of the game anymore, but we'll all agree that he's still pretty good. Tiger is free to play golf well, NOT because he swings the club in any old way he likes. He is truly free when his technique is perfect and when his swing is true and pure. This is true freedom - a freedom for excellence. If Tiger merely exercised freedom from constraint, he'd go up there and hit the golf ball differently each time, just because he felt free to do so. Would he be free? Not at all - he'd be awful. Tiger is free because he exercises discipline, control, repetition and precision. That is how we are invited to live by Christ, so that we can become who we should be: saints.
Freedom is part why we are here this morning. We are free to worship God and the Mass is the perfect sacrifice. We owe God our adoration, praise and thanksgiving as a matter of justice to Him just because HE IS GOD and what we do here is merely an anticipation of the eternal banquet we hope to enjoy forever with Him. Incidentally, that is why the Church has always opposed atheistic communism - it prevents man from worshipping God and it violates the justice we owe Him. That is why Ronald Reagan and the Pope opposed communism: it wasn't just a failed economic system or an overly ambitious political machine seeking expansion: Communism violates the human person's innate desire to worship God without government intervention.
Freedom - the capacity to do what we ought - is such a great gift and we can and have done many great things with it. The ingenuity and creative drive that is possible in our country has done much good in the world and in these instances, we see how good freedom can be. Yet, we also know how we have abused freedom:
1. When we fuel a $9 billion pornography industry and export it under the guise of freedom of expression or "art."
2. when the popular media and pop culture export decadence, sensuality, lust and materialism, claiming that we are so free that we don't have to obey any rules of decency. Just watch any awards show: the Tony's, the Emmy's, the Academy Awards, the Oscar's not to mention the MTV Music Awards and see how free we claim to be merely because we are supposedly "free" to be lewd.
3. When we glorify a woman's supposed right to choose who gets to live and who gets to die, all in the name of freedom and we maintain legalized abortion in this country.
4. When we claim that people of the same sex can attempt marriage simply because they claim a freedom to define what marriage is.
The irony is that the more we stray from the truth even as we claim freedom, the less free we become, because we actually become slaves to our passions and our sins. So, knowing the truth is crucial. In other words, if freedom is the capacity to do what we ought, then how do we know what we should do? We learn what the truth is. Actually, who the truth is: Jesus, who says I AM the way and the TRUTH and the life. We don't get to determine what the TRUTH is. We receive the TRUTH from our God who reveals it to us in His Son and continues to deepen our understanding through the Son's bride - the Catholic Church.
So, true freedom can never be separated from the truth. Even Thomas Jefferson tried to do this. In his later years, Jefferson founded the University of Virginia, my alma mater, and called it the "project of my old age." Jefferson was a deist: set the clock; no miracles in Scripture. Did not want any religion controlling the school. In 1853, nearly twenty years after Jefferson's death, the Rotunda on the Grounds of the University burned down. When the new library was built to house the space lost in the fire, the architect enscribed in Greek on the facade of this building, facing the Rotunda, from Deuteronomy, "You shall seek the Truth and the Truth shall set you free." How ironic that for all Jefferson tried to do to avoid religion, the very building which faces the restored Rotunda actually quotes Scripture.
Finally, I'd like to share a brief story about something I witnessed last weekend, as I was flying into Chicago for an ordination and a class reunion. Walking in front of me was a GI returning from Iraq, fully decked out in his combat fatigues, the sand-colored desert type. It was a moving scene to witness him embrace his three young children and wife and relatives and friends as we emerged from the secured gate area. Here was a man who had come back from fighting in the name of freedom. I wondered, "Does this soldier understand what freedom means?" "Does he understand that the freedom that he's been fighting for is not the freedom that we often espouse in this country - the ability to do whatever we want?" "Does he understand that he's been fighting to give others the capacity to live as they should - as children of God?" "Do we realize what these guys are fighting for?" "We say 'freedom' but what does that mean - is it freedom grounded in the Truth of Jesus Christ or is it grounded in whatever I want truth to mean?"
The truth is no longer merely a law, but a person - the Lord Jesus, who says I am the way and the truth and the life. Let us pray today that we and our fellow Americans will rediscover what true freedom means: a freedom to do what we ought, living in the Truth of Christ, and not merely the freedom to do what we simply prefer. For, it is only when we live in the Truth, that we will be truly free.
Praised be Jesus Christ. Now and forever!
If you find this material valuable, consider a tax deductible gift to support this site.
The DaCapo Foundation • 2402 Tricia Ct. • Vienna VA 22181