4th Sunday Ordinary Time
A Homily - C Cycle - 2003-2004
First Reading - Jeremiah 1:4-5, 17-19
Psalm - 71:1-2, 3-4, 5-6, 15, 17
Second Reading - 1 Corinthians 12:31 - 13;13
or 13:4-13
Gospel - Luke 4:21-30
Luke writes to explain that
Christ came to save everyone.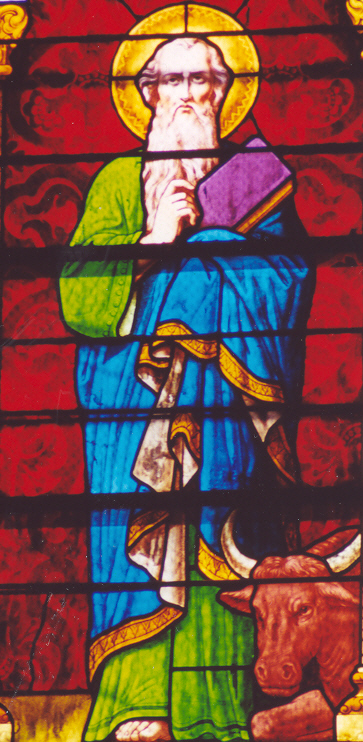 Jesus began speaking in the synagogue, saying: "Today this Scripture passage is fulfilled in your hearing." And all spoke highly of him and were amazed at the gracious words that came from his mouth. They also asked, "Isn't this the son of Joseph?" He said to them, "Surely you will quote me this proverb, 'Physician, cure yourself,' and say, 'Do here in your native place the things that we heard were done in Capernaum.'" And he said, "Amen, I say to you, no prophet is accepted in his own native place, Indeed, I tell you, there were many widows in Israel in the days of Elijah when the sky was closed for three and a half years and a severe famine spread over the entire land. It was to none of these that Elijah was sent, but only to a widow in Zarephath in the land of Sidon. Again, there were many lepers in Israel during the time of Elisha the prophet; yet not one of them was cleansed, but only Naaman the Syrian." When the people in the synagogue heard this, they were all filled with fury. They rose up, drove him out of the town, and led him to the brow of the hill on which their town had been built, to hurl him down headlong. But Jesus passed through the midst of them and went away.
Imagine that you had an elderly neighbor who was blind and he asked you to buy a lotto ticket for him everyday and bring it over to him and read him his numbers and then check the winning numbers in the paper for him to see if he won. For years you would do this and he wouldn't win. Then one day, after many long years and thousands of dollars spent on the lotto, you read his ticket and then look in the paper and you've realized that he had just won $50 million. You look out the window and you see him in the garden just milling around. What do you do? Do you merely come up to him and say, "Hey, Joe - how are the flowers?" Of course not - you would be screaming and jumping around because he had just won $50 million! It would be such good news. An yet, $50 million does not even begin to compare with the message of the Gospel - the good news of salvation. Unfortunately, we often find that the Good News is the best news that we're most quiet about telling people. You know, ssssssh - don't tell anyone - after all, it's only about salvation.
This idea is at the heart of our readings today - our need to exercise our prophetic office as Catholics. In a world full of so many Catholics who are so often uncatechized and are religious illiterates, we need to speak up and promote the Faith. In our first reading, we heard about the call of the prophet Jeremiah to be God's herald. This call is extended to all the baptized through the Lord Jesus. Answering the call, however, will not be easy. God warns Jeremiah that, they will fight against you but not prevail over you. Just as He promises Jeremiah, God promises us that He will be with us to deliver us, if we meet the demands of our vocations to promote the Gospel.
Of course, the desire to promote the Faith and how we go about doing this is where the problem often lies - as they say, "the devil's in the details." On the one hand, we have a calling to announce the good news. On the other hand, we have to do it in a way that invites persons to conversion and doesn't penalize them for having listened to you. So, we have to employ the virtue of prudence, which is nothing more that the virtue which disposes a person to discern the good and choose the correct means to accomplish it. This is what St. Paul reminds us of in the second reading - unless our efforts to promote the gospel are grounded in love, we have gained nothing.
The other side of this coin, however, is a false prudence and a disingenuous love. This is the kind of prudence which causes us to slink away from evangelization in the name of "not rocking the boat" when in fact disturbing the waters is exactly what is needed. This is the kind of disingenuous love which tolerates or remains silent in the fact of immorality and evil when we should in fact speak up. St. Paul reminds us that true love rejoices in the truth. "Keeping the peace" is not always the most prudent course. That's because peace is not merely the absence of conflict - true peace is only realized when justice is at hand - when persons live in the truth. Some who balk on their responsibility to promote the Faith say things like, "Well, who am I to say anything - I'm a sinner too." Or "Preaching is the role of priests - I'm just an ordinary person." Interestingly, the Second Vatican Council reminds us that by our baptism, each of us is called to evangelize. It is not only the role of priests, but also the role of all the baptized. Can you imagine if St. Paul had taken the attitude, "Who am I to preach because I'm a sinner too?" Where would we be today? St. Paul killed Christians before his conversion but that didn't stop him from embracing his prophetic vocation.
Similarly, we Catholics cannot remain idle in a self-satisfied state of contentment which only wants to do the minimum to get by. This is what Jesus refers to when he makes mention of those specific examples of individuals who were favored by God in ancient times. In each of the examples, he reminds the Jews that in times of great adversity, be it famine or disease, God actually favored the Gentiles, the unclean over the Chosen People. In other words, the Lord is telling us that just because you think that you've got it made because you're a member of the Chosen People or because you go to Mass on Sundays, that you're somehow assured of salvation. Such presumption is a recipe for disaster. The Holy Father, John Paul II, reminds us in Redemptoris Missio, his encyclical on evangelization, that even if we are keeping the commandments and living a holy life, but aren't taking anyone with us to heaven, we ought not to be so sure that we'll make it to heaven. We can't just have a private faith that we don't share with anyone - we have an obligation and a sacred duty to get the Good News out there - in the office, in the classroom, in the grocery line, in the parking lot.
All of this forces us to consider a very simple question, "How well do I know the Faith?" After all, if I am called to spread the Gospel, do I even know what it's all about? A story is told of a teacher who asked a student in her religion class, "Billy, who destroyed the Walls of Jericho?" He replied, "I didn't do it." Quite surprised, the teacher told the boy's mother about her son's response to which the mother replied, "My Billy tells the truth and if he says he didn't do it, then he didn't do it." Finally, the teacher spoke to the boy's father and explained both his son and wife's response, to which the father said as he pulled out his wallet, "Look, we don't want any trouble - how much will it cost to replace the walls?"
Here are three easy suggestions on how we can better educate ourselves in the Faith:
1. Study the Catechism alongside the Scriptures - The Catechism may be one of this Pope's most enduring gifts to the Church. It is incredibly rich and designed for our study. Reading it alongside the Scriptures is a sure way to learn or re-learn one's Faith.
2. Attend RCIA classes and other adult education programs - every year, we have a number of individuals in the parish who attend these classes, not because they are candidates who are becoming Catholic, but are Catholics who want a refresher course on their knowledge of the Faith. Ask any of our sponsors for our candidates and catechumens and they will each tell you how much they have learned by simply attending these classes. We meet Monday nights at King George at 7 p.m.
3. Teach religious education - if you have ever had to teach anything, you know that teaching only makes you a better student of the discipline. The preparation and reading one must do in order to be an effective teacher is itself a great education.
When we are armed with knowledge of the Faith, then we will be on our way to not only knowing about God, but loving Him for we cannot love anyone we don't know. This knowledge of and love of God go hand-in-hand. St. Thomas Aquinas tells us that "To love God is something greater than to merely know Him." Yet, St. Thomas knew full well that one's love of God could only grow deeper if one took the time to get to know Him, not just in our hearts, but in our minds - engaging God in the intellect that He gave us.
As we continue this celebration of Holy Mass, let us take to heart our vocation to be evangelizers - prophets of the Good News in the modern world, on the cutting edge of the new Springtime of the Church. Through the intercession of the Blessed Virgin Mary, may the Holy Spirit direct our personal study and invigorate our efforts to reach out to others with wisdom, prudence and insight.
Praised be Jesus Christ. Now and forever!
If you find this material valuable, consider a tax deductible gift to support this site.
The DaCapo Foundation • 2402 Tricia Ct. • Vienna VA 22181