Sixth Sunday of Easter
A Homily - B Cycle - 2005-2006
First Reading - Acts 10:25-26, 34-35, 44-48
Responsorial Psalm - Psalm 98:1, 2-3, 3-4
Second Reading - 1 John 4:7-10
Gospel - John 15:9-17
John wrote to show that Christ was
the Messiah, the Divine Son of God.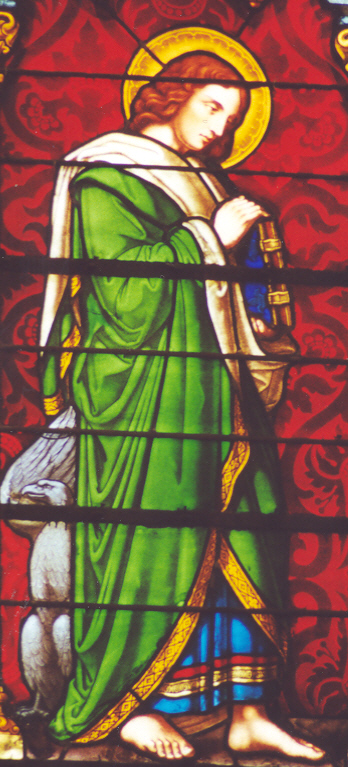 Jesus said to his disciples: "As the Father loves me, so I also love you. Remain in my love. If you keep my commandments, you will remain in my love, just as I have kept my Father's commandments and remain in his love.
"I have told you this so that my joy may be in you and your joy might be complete. This is my commandment: love one another as I love you. No one has greater love than this, to lay down one's life for one's friends. You are my friends if you do what I command you. I no longer call you slaves, because a slave does not know what his master is doing. I have called you friends, because I have told you everything I have heard from my Father. It was not you who chose me, but I who chose you and appointed you to go and bear fruit that well remain, so that whatever you ask the Father in my name he may give you. This I command you: love one another."
We give thanks and praise to almighty God today for bringing us to the first anniversary of the opening of the Guadalupe Free Clinic. Our Lady has truly been with us through this entire endeavor and we continue to place our trust in her most powerful intercession to help us in our mission of serving the poor of our area.
This past week, I gave a talk at Pat Troy's Irish Pub in Old Town, Alexandria as part of our diocese's young adult program called Theology on Tap. With those of you unfamiliar with the series, Theology on Tap is a series of talks given at local bars by priests or other experts in different aspects of the Catholic faith. The goal of the series is to evangelize and catechize young adults who have either fallen away from the Faith or are looking to deepen their faith. The fact that the talks are given in a non-religious venue has the effect of making the truths of the faith accessible to those who might not feel ready to come to a similar talk at church. It's one way of "taking the faith to the people."
My talk focused upon the alleged silence of Pope Pius XII in relation to his assistance of the Jews during the Second World War. This saintly pope is typically vilified in the secular press for his alleged silence and indifference to the deaths of millions of Jews during the Holocaust. One may ask, "How did this all come about?" After all, at the time of the pope's death in 1958, he was universally acclaimed for his heroism in saving more than 700,000 of the 1 million Jews who were saved during the war. Golda Meir, the Prime Minister of Israel eulogized Pius XII at his death; planted 1,000 trees in Israel in his honor and declared him a righteous Gentile, the highest honor given to a non-Jew. Along with editorials in the New York Times, she cited his heroism in saving so many Jews during the war. In 1944, a year before the war ended, Israel Zolli, the chief rabbi of Rome, converted to the Catholic faith, citing Pius XII's heroic charity as a great inspiration which led to his conversion. Zolli took the name "Eugenio" as his confirmation name in honor of Eugenio Pacelli, Pope Pius XII's given name.
It was not until 1963, five years after Pius' death, that the attacks again him began. In 1963, a play, The Deputy, written by Rolf Hoccuth, debuted and accused the pope of remaining negligently silent during the war, since he had allegedly developed a soft spot in his heart for the Germans, having served as the Papal Nuncio to Germany prior to his election as Pope in 1939. Since then, other books, citing revisionist history have vilified this pope. Now, the mainstream opinion of Pope Pius XII and the Church is that this pope and the Church abandoned the Jews during the war and that they caused irreparable harm to the Jewish nation. It is clear that one play and several books have effectively marred Pope Pius XII's reputation and it is safe to say that his name may never be totally cleared in the public mind.
Today, we face a similar phenomenon - the Da Vinci Code. One book has misled millions into believing that Our Lord was a fraud and that the Church has been deceitful, murderous and malicious in her alleged oppression of women for nearly 2 millennia. To be sure, books like the Da Vinci Code are nothing new in the Church's history. Over the last 2,000 years there have been dozens of books alleging conspiracies that the Church was never intended to be led by St. Peter and the Apostles and that the Twelve hijacked the leadership of the Church in order to suppress women. So, in a certain sense, we should be somewhat unphased about what is occurring with the Da Vinci Code.
However, there's a big difference between how Catholics reacted then and how they react now. In times past, Catholics had a better grasp of their faith. In the 1950's, it was believed that nearly 75 percent of Catholics attended Sunday Mass. Today, however, there is such a lack of catechesis and knowledge of the Faith that millions can be misled by a compelling story which preys upon the theologically and historically ignorant. Consider that in Madrid and Paris, less than 5 percent and 3 percent of Catholics, respectively, attend Mass. That leaves the overwhelming majority of Catholics easy pray to be misled by fiction masquerading as truth. Books like the Da Vinci Code fill that spiritual void and it is Dan Brown who educates Catholics about their faith, not the Church. In years gone by, Catholics would not pay heed to such books, since they believed that they were guided by the teachings of the one, true Church. Today, the attitude is very different - the Church is just one among many talking heads, offering their own version of the truth. Everything's up for grabs and the Church has to compete with secular media outlets who try their best to misguide the faithful about what they allegedly are supposed to believe.
The phenomenon of the Da Vinci Code is troubling. In a recent survey, 13 percent of Christians in the United States admitted that they thought that Dan Brown's version of early Christian history was historical truth. In Canada, 33 percent of Christians surveyed felt the same way - that the claims in the Da Vinci Code are true - that somehow Dan Brown has uncovered a 2,000 year old conspiracy theory about the Church that has oppressed women and lead to other malicious acts.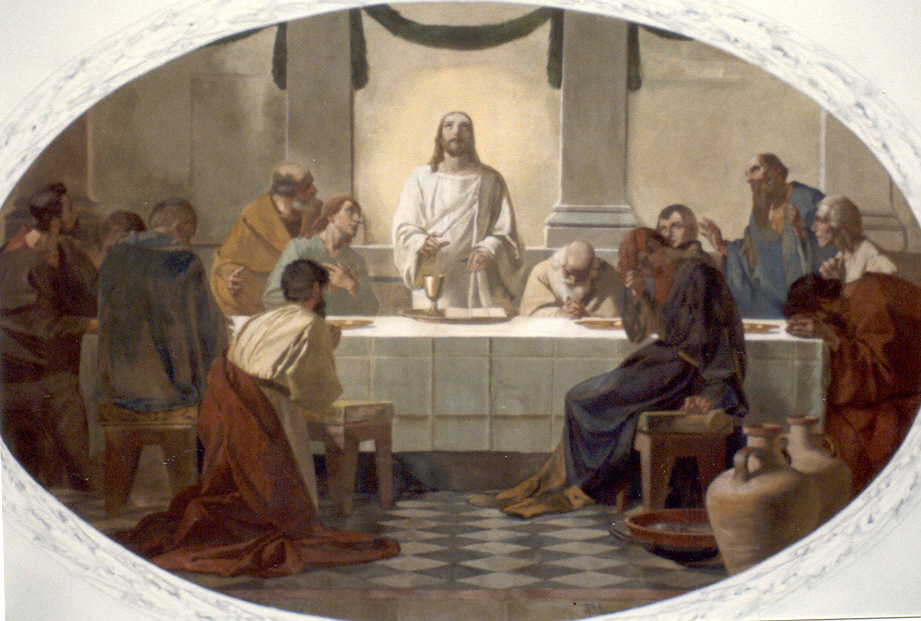 So, we need to pay attention to what is says and refute it. We need to refute it on two levels: First, we need to counteract its false and blasphemous claims. Second, we must take special note of what this book's influence reveals - the general lack of knowledge and catechesis among our peers and perhaps among ourselves. When I speak about this book, many ask me if I've read it or seen the movie. My answer is simple: NO! I wouldn't give Dan Brown or Ron Howard a cent of my money. And just because I have not read the book or seen the movie, doesn't disqualify me from speaking intelligently about it. An example may be helpful to elucidate this idea; There is a trash dump up the road from here. I've never been there but I know it stinks. I don't have to go to the trash dump to tell you its awful. In the same way, I don't have to read trash to tell you its poison for the soul.
Dan Brown's misleading of millions is no accident. On the cover of the book, it reads, "The Da Vinci Code: a novel." Yet, the first word of the book states, "Fact:" Several paragraphs later, the author claims that all of the historical claims in the book are accurate depictions of reality. Even though the book is marketed as a fiction, there is an 80-page section in the book that attempts to lead the reader to believe that tradition of the Church has been grounded in lies. Thus, this mystery novel operates on two tracks: first, there's the main story of the characters involved and second, there's the historical background that provides the backdrop for the novel. Think of it like this: if you read a World War II novel that was a mystery novel, the book would operate on two tracks. First, there would be the story involving the characters themselves. Second, there would be a historical backdrop. The story would have to include how the Allies win and the Axis powers lose. If the reverse were true, the Allies would lose and we would all be speaking German and then we'd know the entire book was a sham. And yet, that's what Dan Brown gets away with. His version of early Christian history is the equivalent of the Axis powers winning and the Allies losing. But because no one knows much about that period of history, they accept it as truth. Here are four examples:
1. Dan Brown claims that the Church opposed the Gnostic gospels because these alleged gospels championed the sacred feminine. That is false. The Church did not reject the Gnostic gospels because they championed the sacred feminine. Rather, the Church rejected these gospels because their authorship was determined to be unreliable. For example, the alleged Gospels of St. Thomas and St. Philip were discovered to not have been written by these two apostles but by heretical groups that were trying to advance an agenda. Their agenda, incidentally, did not triumph the sacred feminine. In fact, they rejected women. In the Gospel of St. Thomas, St. Peter says, "Women are not worthy of Life." Jesus replies, "For every woman who will make herself male will enter the Kingdom of Heaven."
2. Dan Brown claims that it was Mary Magdalene and not St. John sitting next to our Lord during the Last Supper. That is false. There is not an ounce of art history scholarship that supports this claim. Besides, if that's St. Mary Magdalene next to our Lord, there are only 11 Apostles present. Where did St. John go? Is he under the table? Did he go to the bathroom? You mean the only Apostle present at the Crucifixion was absent from the Last Supper? Nonsense!
3. Brown then claims that Jesus and Mary Magdalene were married and that they had a child together. There is not an ounce of scholarship that supports this claim. The source of this alleged claim was again, Gnostic gospel writing. The Gnostics believed that sexual intercourse was evil because it perpetuated the creation of more bodies. The body was seen as a prison for the soul that one must be delivered from. Having children would be highly inconsistent with this anti-body motif held by the Gnostics.
4. Dan Brown also states that Jesus was Mary Magdalene's "spouse," citing the Aramaic word "companion" which was understood to mean "spouse." That again is false. The Gnostic gospel of Philip, the source of this claim, was written in Coptic, not Aramaic. In Coptic, the word for companion is "companion" not "spouse."
And yet, over 40 million copies of the book translated in over 12 languages have been sold worldwide. Millions are being misled.
Some say, "Father, it's just entertainment - relax." Relax! Pornography is also considered "entertainment" but you won't hear me advocating its use. If I wouldn't recommend pornography, why would I recommend Da Vinci trash to aid one in spiritual growth? Some entertainment! One of the associate producers of the film stated in an interview this week that the movie is "conservatively anti-Catholic!" Yet, millions of Catholics will support a movie that is antithetical to the faith they profess. So, if you want to fill your mind with spiritual poison with this book and movie, then I also recommend that you go out and find the raunchiest pornography you can find! It's all poison - all of it! Pornography ruins marriages, leads to violence against women and perverts how men and women view each other. In the same way, the Da Vinci Code will poison your soul by creating doubt about Jesus and the Church and effectively ruin your relationship with the Lord. It certainly won't help it! The argument that "it's just entertainment" doesn't hold weight. There are after all, dozens of forms of so-called "entertainment" that should not be consumed by alleged followers of Jesus Christ. I have never heard anyone claim that this blasphemous book and movie have helped people grow closer to Christ. If that's the case, then why fill your mind with its poison? One cannot reasonably claim that one's entertainment choices remain distinct from their moral state of soul. If that's the case, why not turn to prostitution if you're lonely? It's only entertainment after all . . . What we do dictates who we become. What we fill our minds with changes how we think. How many Judas' are there in our midst when they support a film and book that are anti-Catholic?
I often wonder what the world reaction would be if the Da Vinci Code were written about Judaism or Islam. The reaction would be overwhelmingly negative. Just look what happened when several cartoons mocking Islam were published some months ago? While we cannot support violent answers to blasphemy, we must admire Islamic zeal for God! But because this book is about the Church and Catholics apathetically allow it to fester, the old adage must be invoked, "All that is necessary for evil to triumph is for good men to do nothing." How do we show our support for Christ and the Church? Know how to refute the blasphemy! Boycott corporations that support this spiritual poison!
What if this book were written about your family? What if it portrayed your family as a group of murderers, liars, cheaters and conspirators against humanity? Would you take it sitting down? Wouldn't you fight to clear your family's good name? And yet, thousands upon thousands of Catholics will allow our Lord and His Church's name be dragged through the mud under the guise of "entertainment." Our Gospel today speaks much about our friendship with Christ. Yet, we must ask how many of us really are friends of Jesus if we support blasphemous poison! We should be utterly offended by what is happening - this cries out to God! If you're not offended, why not? You say, "It's only a book!" Only a book? Ask Pius XII what one play did to smear his reputation and what kind of harm it has caused! One book makes a huge difference! Think of the Bible - one book - that has made a huge difference. I have never known a soul who would die for the claims made in Dan Brown's book. But I know that millions have died in defense of the Church. The Gospels are sealed with the blood of the martyrs. Ask Dan Brown if he would die for the claims he makes. I doubt he would - he's too busy enjoying his millions, while the devil dances with joy! If you don't think the devil is behind this, don't be naïve. He is called the Father of Lies because he caused the first sin in an act of deceit.
On one hand, we should remain serenely confident that we know how the story eventually turns out - we will emerge triumphant because Christ has won through. In time, the excitement and hype over this book will die and Dan Brown will die and the Church will prevail. In the meantime, as members of the church militant, we need to take the steps necessary in order to defend the Church against the errors of our day. There are many offerings available to us online, in print and in video form. Take it on as a personal project. The silver lining in all of this is that this phenomenon is providing us with a golden opportunity to educate ourselves and others about what really happened, what the truth really is and to live with the conviction that the Church is as vibrant and alive as ever!
Praised be Jesus Christ! Now and forever!
If you find this material valuable, consider a tax deductible gift to support this site.
The DaCapo Foundation • 2402 Tricia Ct. • Vienna VA 22181