Tenth Sunday
in Ordinary Time
A Homily - Cycle C - 2012-2013
by Rev. Luke Dundon

Home Page

First Reading - 1 Kings 17:17-24
Responsorial Psalm - Psalm 30:2, 4, 5-6, 11, 12,13
Second Reading - Galatians 1:11-19
Gospel - Luke 7:11-17
Written to explain that
Christ came to save everyone.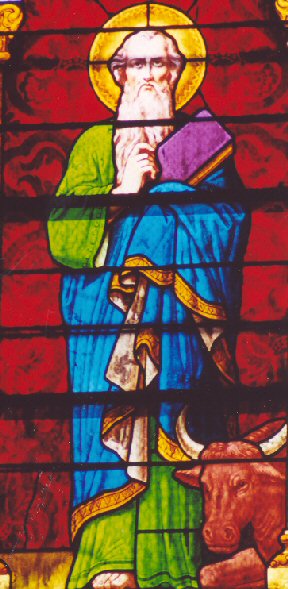 Jesus journeyed to a city called Nain, and his disciples and a large crowd accompanied him. As he drew near to the gate of the city, a man who had died was being carried out, the only son of his mother, and she was widow. A large crowd from the city was with her. When the Lord saw her, he was moved with pity for her and said to her, "Do not weep." He stepped forward and touched the coffin; at this the bearers halted, and he said, "Young man, I tell you, arise!" The dead man sat up and began to speak, and Jesus gave him to his mother. Fear seized them all, and they glorified God, exclaiming, "A great prophet has arisen in our midst," and "God has visited his people." This report about him spread through the whole of Judea and in all the surrounding region.
The Diocese of Arlington has gained seven new priests. Your dear deacon Thomas Cavanaugh is now FATHER Thomas Cavanuagh. Fr. Donahue and I have a new . . . brother . . . priest. You have a new Padre. What a glorious day! And what a special day . . . it's not every day that you have seven new priests. It's not every day that you see a brand-new priest. It's not every day that the one who used to shine my shoes, now gets to say Mass on his own!
But then, oddly enough, this weekend is a special weekend as well. Due to the Easter Season, Holy Trinity Sundays, and Corpus Christi schedules (which change based on the time for Easter), we rarely get to enjoy the TENTH Sunday in Ordinary Time. Which brings us readings that deliver a marvelous reminder. A reminder that comes only once every few years – the reminder that tough things do happen, even death. And when these tough times happen, we might be tempted to be like the widow from Zarephath, to complain to the Lord, Lord, WHY?! Why did you let THIS happen?
Does our Lord give a verbal answer to us? Not necessarily. Even better – he RESPONDS with tenderness and empathy. Pope Francis, over and over again, has been reminding us of the tenderness of God. Tenderness which is not far away, but very close to us. Tenderness which is given through a mediator – Elijah was that mediator for the widow. Priests like Fr. Thomas can be mediators for God's love for us today. Tenderness which is ALSO given directly from the Lord Himself. Jesus saw the body of the young man being carried through the streets, and the mother following behind. I'm SURE His sacred heart must have twisted in pain, as He saw a foreshadowing of the pain that ANOTHER mother would have to go through, as she saw her only son die upon a cross. So what does He do? He raises the young boy to life, right? Yes, BUT ONLY after directly comforting the mother – Do not weep! It's OK, you're not alone . . . *I* am here with you!
Thank God for this special weekend, where we are truly reminded, YES – tough things DO happen. And YES –GOD DOES CARE ABOUT US, during these tough times. He may tenderly respond through a mediator, a friend, a family member, a priest. Or, quite powerfully, He may respond directly. He may gaze upon us and remind us that we are not alone, as He tells us, you have come to me for help, so I PROMISE YOU – I will help you in this troubling time!
Where can we receive such direct help from God? Where can we approach God so directly, here in this life? Where can we approach the King so intimately and personally? Brothers and Sisters, look no farther, the King of Kings hold office hours, here at St. Philip's, every Wednesday evening from 7:30 – 8:30 pm, and every First Friday, all night long in Eucharistic Adoration. I stayed here praying, all night last night (it was First Friday), asking the Lord to watch over the future Fr. Thomas. As I sat and camped out with Jesus, I noticed how parishioners would come up to our Lord, right here on this bottom step, at 11 pm, 1 am, 3 am, 5 am . . . they'd come right up here to pray, pouring out their whole heart to the Lord. I thought to myself, THAT'S IT! These folk get it! They realize that the Lord really does care about them in their need, and they have faith that He will respond!
And today, my friends, He proved that He will respond. He responded to your love for Deacon Thomas by making him Father Thomas. He promises to respond to your own needs, our own needs, all He asks is that we allow Him to walk with us, we allow Him to come to us, and remind us, Do not be sad, my brothers and sisters – I am with you, I care for you, and I promise – I will give you EXACTLY what you need.