Solemnity of the Nativity of the Lord
(During the night)
A Homily Cycle C 2012-2013
Rev. Luke Dundon
First Reading - Isaiah 9:1-6
Responsorial Psalm - 96:1-2, 2-3, 11-12, 13
Second Reading - Titus 2:11-14
Gospel - Luke 2:10-11

Luke writes to explain that
Christ came to save everyone.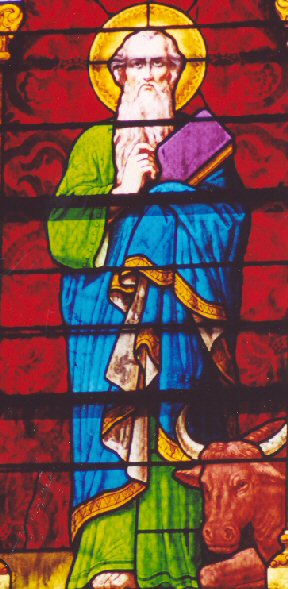 In those days a decree went out from Caesar Augustus that the whole world should be enrolled. This was the first enrollment, when Quirinius was governor of Syria. So all went to be enrolled, each to his own town. And Joseph too went up from Galilee from the town of Nazareth to Judea, to the city of David that is called Bethlehem, because he was of the house and family of David, to be enrolled with Mary, his betrothed, who was with child. While they were there, the time came for her to have her child, and she gave birth to her firstborn son. She wrapped him in swaddling clothes and laid him in a manger, because there was no room for them in the inn.
Now there were shepherds in that region living in the fields and keeping the night watch over their flock. The angel of the Lord appeared to them and the glory of the Lord shone around them, and they were struck with great fear. The angel said to them, "Do not be afraid; for behold, I proclaim to you good news of great joy that will be for all the people. For today in the city of David a savior has been born for you who is Christ and Lord. And this will be a sign for you: you will find an infant wrapped in swaddling clothes and lying in a manger." And suddenly there was a multitude of the heavenly host with the angel, praising God and saying: "Glory to God in the highest and on earth peace to those on whom his favor rests."
Twenty-five years ago, right about this, I'd be lying in bed with my ears attuned to every Christmas frequency in the airwaves . . . listening for sleigh bells . . . listening for reindeer hooves . . . listening for Santa's laugh. In the end, I mostly just heard Mom and Dad talking in the kitchen nearby, talking about how happy us kids looked. Enough talking, Mom and Dad, I'm listening for Santa! I want to hear what SANTA sounds like, I want to hear what Santa talks about!
Twenty-five years later, I don't wonder so much about that . . . but I do try to attune my ears to God a lot. I try to listen to Him, and sometimes, I have to wonder to myself, what does GOD talk about with Himself? What do the Father, Son and Holy Spirit chat about on a Saturday morning? The Son prayed to His Father while on earth. The Father spoke to His Son while Jesus walked these grounds. The Son told the Holy Spirit to do down to Earth. So they MUST communicate with each other! What do they talk about?

I'm sure God would say, "We talk about lots of things!" What kinds of things are you thinking of? And then I'd have to admit what I'm wondering . . . "Well, God, tell me - - - do you tell jokes amongst yourselves?" Do you tell a little comical yarn once in a while? You ARE the Lord of Beauty, and laughter is a beautiful thing, so you must enjoy a good laugh!
I mean, in the rectory we tell jokes all the time - - - Deacon Thomas makes a witty comment, Fr. Donahue builds on it, Fr. Dundon wakes up the next morning and says, "oh, I get it!" WE tell jokes . . . and we WERE created by YOU, God . . . so, pray tell, dear Lord, what kind of jokes do YOU tell?
The best kind, dear Luke, the best kind . . . there was once one time that the Son and Holy Spirit and I were sitting around the Heavenly Kitchen Table, long before Adam and Eve were created, enjoying a little divine java . . . you see, we were planning the greatest gift we would give humanity . . . redemption! We were about to create man and women, but we knew that our dear children, human beings, would make a mistake from the get-go. And yet, I also knew, I would never lose my love for you, for EACH of you are my children, and EACH of you are worth saving, provided you accepted it! So we were strategizing how we would achieve this greatest feat the universe would ever behold.
Different ideas came up – swoop down from the Heavens and fix everything with a snap? Perhaps . . . but YOU all were the ones who made the mistake, and YOUR snap isn't strong enough! Re-create everything without anybody knowing it? Well, that would mess with your free will . . . Perhaps give you a vitamin that would cleanse you of original sin? Again, that vitamin would be QUITE a pill to swallow . . . so what to do?
And then Jesus started to chuckle at the table - - - I know! He says – I'll come down among them, AS ONE OF THEM. AS ONE of them, Son? That would be like one of them becoming a little bird to save a flock of lost swallows! Well, it sounds like a plan, we'll get you a nice place in Rome somewhere . . .
No dice, Dad . . . I've got a plan that will knock their SOCKS OFF . . . I'll be born to a simple couple who don't have very much. "You, my very WORD, SPLENDOR AND MAJESTY, want to be born into simple village life?"
Yep, and it gets better . . . when the time COMES for my birth . . . there will be no fancy hotel that has room for me. I'll be born into a stable, where ANIMALS reign! And we won't invite the other rulers in the area . . . go ahead and send out the BEST angels we got, and not just one or two, but a WHOLE MULTITUDE, to invite the lowliest, dirtiest and simplest Shepherds! My throne will be a bed of hay, and my regal court will consist of oxen, donkeys and simpletons!
The Father thought for a moment . . . then a twinkle shone in His eye . . . than a smile broke out . . . then a hearty belly laugh that filled every corner of the Heavens . . . "BRILLIANT, Son! How hilarious is that! We will send our Godhead into their time and space, in the most UNEXPECTED and IRONIC of ways! What a SURPRISE it will be for everyone!": And so the God of Eternal Joy has delivered the most beautiful "joke" ever known to the history of mankind - - - A joke that was inspired by the unfettered love that God has for us confused and suffering children.
The eternal and magnificent and infinite Word of God . . . enters humble and finite and uncertain time and space.
The Son of God, who dwells in the riches of Heaven . . . descends into the poverty of a stable with farm animals.
He who is great has become lowly, He who is vast has become SMALL, He who came to reign over all creation, came as the son of a carpenter. Don't look UP to the Heavens, look DOWN to the manger. Everything has been turned upside-down!
For, that which is lowly can now become GREAT, that which is SMALL becomes truly vast, that which involves suffering, pain and sorrow can now end with joy, laughter, a smile! For you see this Divine "Joke" of God, which produces laughter for all eternity, is NOT meant to demean or humiliate or disgrace, as we know so well in our hurting world. THIS divine "humor" allows US to have the last laugh - - - for because God has humbled Himself with such PASSIONATE love for His children, because the Son carried through with the Divine Plan, because the Blessed Mother said yes, because greatness is now measured by LOWLINESS, victory is measured by LOVE, we can indeed LAUGH with the JOY which comes from that Divine Kitchen Table, for now WE can enter INTO that joy, we CAN smile for joy, for God has come, He has shown His power, He has shown His love in the most hilarious way. Indeed, He has shown what's on His mind up there – US! For He LOVES EACH of us that MUCH . . . and Glory to God in the Highest, He has PROVED that love tonight!