Feast of the Presentation
of the Lord
A Homily - Cycle A - 2013-2014
by Rev. Luke Dundon
First Reading - Malachi 3:1-4
Responsorial Psalm - Psalm 24:7, 8, 9, 10
Second Reading - Hebrews 2:14-18
Gospel - Luke 2:22-40
Luke writes to explain that
Christ came to save everyone.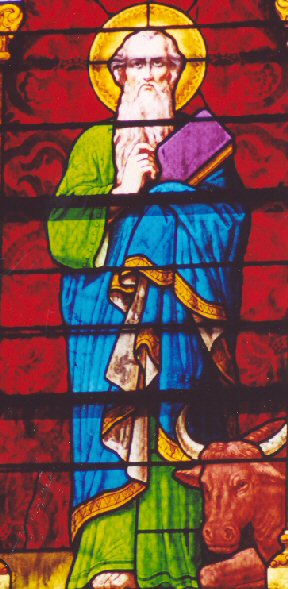 When the days were completed for their purification according to the law of Moses, they took him up to Jerusalem to present him to the Lord, just as it is written in the law of the Lord. Every male that opens the womb shall be consecrated to the Lord, and to offer the sacrifice of a pair of turtledoves or two young pigeons.
Now there was a man in Jerusalem whose name was Simeon. This man was righteous and devout, awaiting the consolation of Israel, and the Holy Spirit was upon him. It had been revealed to him by the Holy Spirit the he should not see death before he had seen the Christ of the Lord. He came in the Spirit into the temple, and when the parents brought in the child Jesus to perform the custom of the law in regard to him, he took him into his arms and blessed God, saying: "Now, Master, you may let your servant go in peace, according to your word, for my eyes have seen your salvation, which you have prepared in sight of all the peoples, a light for revelation to the Gentiles, and glory for your people Israel."
Have you ever wondered how certain things fit together, especially when it initially looks like, they don't? Combinations which, at first, don't seem quite right. A little like when I first saw my mom take out some ground meat, some ketchup, some onions, some RAISINS, some Worcestershire sauce, some apples, some oatmeal, breadcrumbs . . . a little bacon . . . Mon, what ARE you making? Oh, meatloaf! Oh . . . who knew? Mom, all THESE ingredients go together to make meatloaf? How in the world could they mix together? Just wait, she said, just wait and be patient . . . you'll thank me when you take the first bite . . . she's right. It was worth the wait . . . but, wow!
I could say the same thing about today, February 2nd. What a strange combination we have today – today, Sunday the 2nd of February, we celebrate a Mass with extra candles, we celebrate a day when every TV in the United States will be tuned into a football game this evening, we celebrate a day when a groundhog, for ONE DAY, gets to be the weatherman! So . . . how do these things relate to one another?
Well, I think back to the groundhog. He climbs out of his hole (or, more precisely, he's picked out by guys with top hats), and he makes his weather forecast by seeing or not seeing his shadow . . . very precise meteorology. Whether or not he sees his shadow, whether there are six weeks of winter left or not, it definitely always seems necessary, that we need to hunker down a little while longer . . . warmer weather rarely seems to come round the corner after the 2nd of February, so we need to just patiently wait it out. I even think there's more snow coming this week. And then, of course, the Super Bowl! It's really quite astonishing. About 32 teams begin a season in September, with only two destined to go all the way. Very tough odds, many hard-earned victories, and it doesn't happen all at once . . . if a team wants to make it to tonight's game, they need to patiently seek the prize at the end . . .
And THAT makes me think of the Mass we're celebrating now. THAT'S how Simeon and Anna must have been, waiting patiently in the temple. They knew that the Lord promised a "light of revelation to the Gentiles," and salvation for His people Israel. They knew that they would one day be able to see that light which overcomes darkness, one day they would behold the Savior who would redeem them from sin . . . but they weren't certain exactly WHEN He would come. So they patiently waited for the prize, they patiently hunkered down in the temple. And, better than any groundhog or football player, they lived in great hope that this Savior would make His light known to all nations . . . not a winter prediction like our dear Punxatowney Phil, not a point spread for a football victory, what Simeon and Anna put their trust in . . . was a promise, a guarantee!
Our Blessed Mother Herself is told that something significant, perhaps even difficult, will befall her later in life. "And a sword shall pierce your own heart . . ." Quite a shock to hear that . . . so what can she do? Nothing but patiently wait . . . see how it will unfold, not in her own good time, but in the Lord's good time. Simeon and Anna had to wait a long time, not just hours, months, but years . . . but it was worth the wait. The Light of the World HAS come, He HAS fulfilled His promises. I may not be very patient with other things like meatloaf, a groundhog's prediction or the Redskins finally making it to the Super Bowl, but I should be patient with HIM . . . He will make an appearance into my life, He will touch my heart and remind me of His presence, He will conquer the darkness which I am afraid of . . . He will put order into the confusing combinations of my life. I SHOULD wait in patience for Him . . . for He has been awfully, awfully patient with me. And thanks be to God, for that.