Luke 7:11-17
Blessed are Those Who Morn
by Rev. Robert Wagner
Reprinted with permission of "The Arlington Catholic Herald"
Home Page
To Sunday Gospel Reflections Index
Written by Luke to explain that
Christ came to save everyone.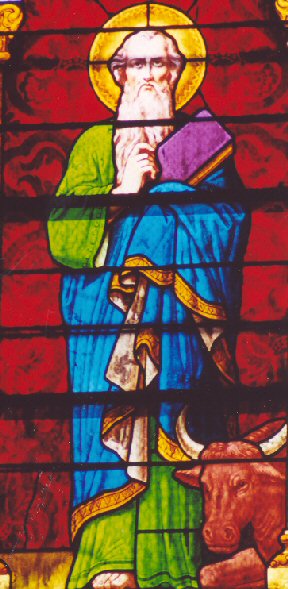 Jesus journeyed to a city called Nain, and his disciples and a large crowd accompanied him. As he drew near to the gate of the city, a man who had died was being carried out, the only son of his mother, and she was widow. A large crowd from the city was with her. When the Lord saw her, he was moved with pity for her and said to her, "Do not weep." He stepped forward and touched the coffin; at this the bearers halted, and he said, "Young man, I tell you, arise!" The dead man sat up and began to speak, and Jesus gave him to his mother. Fear seized them all, and they glorified God, exclaiming, "A great prophet has arisen in our midst," and "God has visited his people." This report about him spread through the whole of Judea and in all the surrounding region.
If we love, we cannot escape mourning, for mourning is the result of losing a loved one. Inevitably, this loss occurs in the lives of each and every one of us. Even with our hope in the Resurrection of the just, the death of a loved one still means a loss in this world — the loss of something good. It means an end to making plans together, or sharing a laugh, or comforting each other.
We meet the woman from Nain in the Gospel today, and she has too many reasons to mourn. She is a widow, so she had already lost her husband — the one who was not just united to her in matrimony, but who also provided for her and protected her. Then, on the day she met Jesus, she is there burying their only son, the fruit of the bond between her and her now-deceased husband. Her son was the companion God gave her to stand in the place of his father as her provider and protector. Now, she weeps in a funeral procession, taking her son to his final resting place, just as she had taken her husband some time before.
It is a difficult scene to imagine: a woman completely alone, with one loved one in the grave and another on his way. For her, it was not only a time of mourning, but a time of despair as well. In her old age, who would care for her? Bereft of her husband and only son, who would be her family? Who would keep her safe? Who would sit with her so she was not alone? The two loves of her life were gone. No doubt she was scared, sad and questioning God for allowing this to happen.
It is in this fear, sorrow and doubt that she met Jesus Christ, the one God, living and true, and the Source of all life. When she encountered Our Lord, He did far more than just offer her words of comfort. Through His divine power, Jesus overpowered death and raised her son back to life. The widow was no longer alone. Now her beloved was restored and by her side once more.
This miracle amazed the crowd. Everyone who saw praised God because the widow's son was brought back to life. God was among His people bringing life where it seemed only death and sorrow existed.
Likely, the vast majority of us will never experience a miracle like this. It is rare when Jesus ends our sorrow and mourning in such a real and undeniable way, but that is okay. It is okay because we recognize that mourning is a part of life. "Blessed are those who mourn," we hear Jesus tell us, "for they will be comforted" (Mt 5:4). They will be comforted by the One who creates us and loves us and knows us. They will be comforted by the One who gives life. They are comforted by the One who offers us eternal life, the promise of a place where death has lost its sting, where every tear has been wiped away, and where there is only life, love, beauty and joy.
It is powerful to note that Jesus approaches the widow in this Gospel passage, and not the other way around. Our Lord is moved by the sight of her in her sorrow. We must be confident that Jesus knows each of our sorrows as well — both the devastating losses that can stun us out of the blue, as well as the little sorrows that may darken our daily lives. Just as Our Lord approached the widow in her sorrow so that she could experience the hope found in Him, He comes to meet us when we, too, are full of sadness and despair.
In our darkest hour, let us look for Our Lord, that we may welcome Him. Let us look for Our Lord, who knows each sorrow of our heart, and, moved to pity, desires us to encounter and know Him. In our sorrow, He calls us to rest in Him, to hope in Him, and to find comfort in both His Presence and the promises He offers us.
Blessed are those who mourn, for they will encounter Our Lord, and He will be their comfort.