Return to Index The Catholic Faith
Return to Level One Topic Index
Home Page
Early in the morning on the Sunday after Jesus died, Mary Magdalen and some other women walked along the road that led to the tomb. They wanted to complete the Jewish burial customs and anoint the body of Jesus with spices. There had not been enough time for this earlier because the Jewish Sabbath had begun Friday evening and lasted all day Saturday. During the Sabbath it was forbidden to handle a dead body.
Although it may have been a beautiful spring morning, the women's hearts were not light. The teacher they had loved and honored as the Messiah was dead. The disciples were still hidden indoors, heartbroken over Jesus' death and in fear for their lives. On top of everything else, the women worried that they would not be able to perform this last act of love, the anointing of their dead master. The tomb was shut with a large stone which they themselves could not move. And it did not seem likely that the Roman guards, sent to the tomb to keep Jesus' disciples away, were going to help them. It must have seemed to the women that the forces of evil had won a terrible victory.
Arriving at the tomb, they were astonished to see the stone rolled away. An angel sat upon the stone and said, "Do not be afraid, for I know you seek Jesus, who was crucified. He is not here, for he has risen just as he said. Come and see the place where the Lord was laid. Then go quickly, tell his disciples that he has risen" (Mt 28:5-7).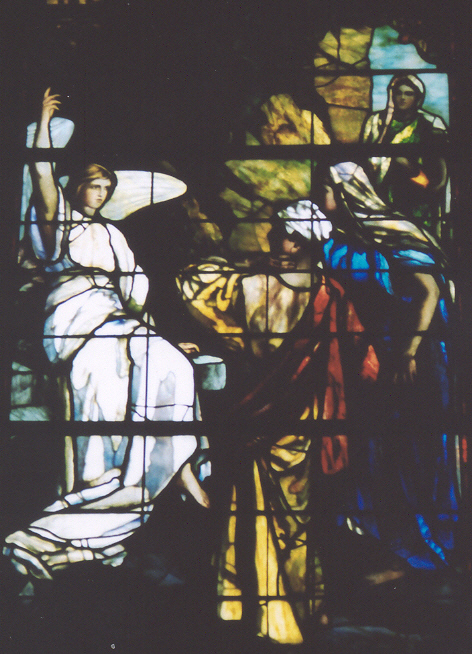 The women rushed back to the house where the disciples were staying. The disciples did not know what to think of their story, but Peter and John immediately left to see the tomb, running all the way. Mary Magdalen ran back with them. They looked into the tomb. The linen cloths that had covered the body of Jesus were neatly folded and set aside. John knew that grave robbers would not do such a thing. He recalled what Jesus had said about rising again. Yes! That was it! It had actually happened! At this moment, John became the first disciple to believe in the Resurrection. Peter and John ran back again to tell the others what they saw.
But Mary Magdalen remained behind. Tired and distressed by all that had happened, she could not think clearly. All she knew was that the body of Jesus was gone, perhaps stolen by wicked men. She began to cry. She heard a voice behind her: "Woman, why are you weeping? Are you looking for someone? " Her eyesight blurred by tears, Mary thought it was the cemetery gardener. But when the man spoke again, his voice was unmistakable. "Mary", he said. Mary looked again, and there stood Jesus! "Master!" she replied, almost speechless with joy. Jesus sent her to tell the disciples.
Jesus had won the greatest victory of all. He had defeated sin and conquered death, the punishment for sin. His Resurrection showed all his followers that Jesus was truly the Son of God, the King of Kings and Lord of Lords. It was a sign that God had accepted the sacrifice which Jesus made to redeem us.
After the Resurrection, the body of Jesus was changed, or glorified. Now he was no longer restricted by his body as the rest of us are. He could disappear and appear anywhere he wanted. He could pass through walls and locked doors. He no longer suffered any pain or discomfort, such as hunger or thirst. At the same time, Jesus still had a real body. He was not a ghost, and when he appeared to his disciples he proved this be eating food and allowing them to touch him.
The Resurrection of Jesus is one of the central truths of our faith. Saint Paul said, "If Christ has not been raised . . . your faith is in vain" . Because Jesus came to life again, our souls, dead from sin, become alive in sanctifying grace through Baptism. Because Jesus is alive for ever, we too can hope to live for ever in Heaven.
Used with the permission of The Ignatius Press 800-799-5534
Return to Index The Catholic Faith
Return to Level One Topic Index
Top
Home Page