The Mother of God In Our Lives
Return to Index The Catholic Faith
Return to Level One Topic Index
Home Page
The first miracle Jesus performed in his public life was unlike any other. He did not heal someone of a terrible disease or handicap. Instead he solved a little problem - so little that Jesus may not have even been thinking of doing it at first. He did it at the request of his mother, Mary.
This was the miracle at Cana, where Jesus turned water into wine at a wedding party. The newly married couple had run out of wine before the party was over. Mary, one of the wedding guests, felt sorry for the embarrassed couple. So Mary told Jesus what had happened. Jesus answered that it was not yet the right time to begin showing his miraculous powers. Mary was confident that her Son would not refuse the favor she asked. And so Jesus had the servants fill large jars with water, which he turned into the most delicious wine.
One might say Our Lady was being very "motherly" toward the bride and bridegroom at Cana, looking out for their needs and interceding for them. (Her request to Jesus was a kind of prayer.) Jesus must have wanted Mary to be a "Mother" to all his friends. That is why, as he was dying on the Cross, he told his Mother to be a Mother to his young apostle John. "Woman, behold your son." We believe that with these words, Jesus gave his Mother not only to John but to all Christians. And so we honor Mary today not only as Mother of God but as Mother of the Church.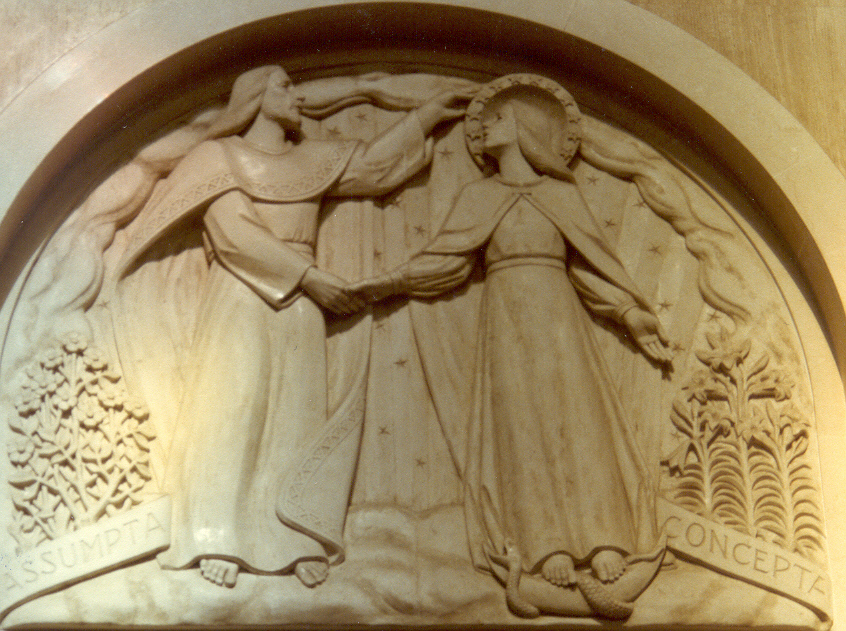 Mary has an important role in our redemption. Jesus is sometimes called "the new Adam" because his death was the act of obedience to God that undid the disobedience of Adam. We can also call Mary "the new Eve". Eve helped bring sin and death to the entire human race by her unwillingness to obey God's will. Mary, by submitting perfectly to God's will all her life, helped restore what had been lost.
Mary was with the apostles at Pentecost. Her prayers helped the early Church to grow quickly. When Mary died, she was taken into Heaven body and soul. We call this privilege the Assumption of Our Lady, and we celebrate it each year on August 15th.
From Heaven, Mary continues to be Mother of the Church and Mother to each of us. Remember the wedding at Cana? Our Blessed Mother is interested in our problems and needs. If we turn to her, she will gladly pray to God on our behalf. Jesus will listen to her because she is the holiest of all the saints, in addition to being his own beloved Mother.
Mary's Gift to Us
The Rosary is one of the most powerful prayers we can say. As we pray the Our Fathers and Hail Marys on the Rosary beads, we are supposed to think about certain scenes from the lives of Jesus and Mary, which are called the mysteries of the Rosary. The Church has often urged families to say the Rosary together. Many parents and children have found that the family Rosary has brought much grace and happiness to their families.
Used with the permission of The Ignatius Press 800-799-5534
Return to Index The Catholic Faith
Return to Level One Topic Index
Top
Home Page